Support page for the
Indeed Sponsored Jobs Connector
With the Indeed Connector you can report on the most important statistics of your Indeed account.
To use this connector you can connect with your Google Account or just with your email. Both Logins will make an account in the Data Hub app.
The Indeed Connector has a template.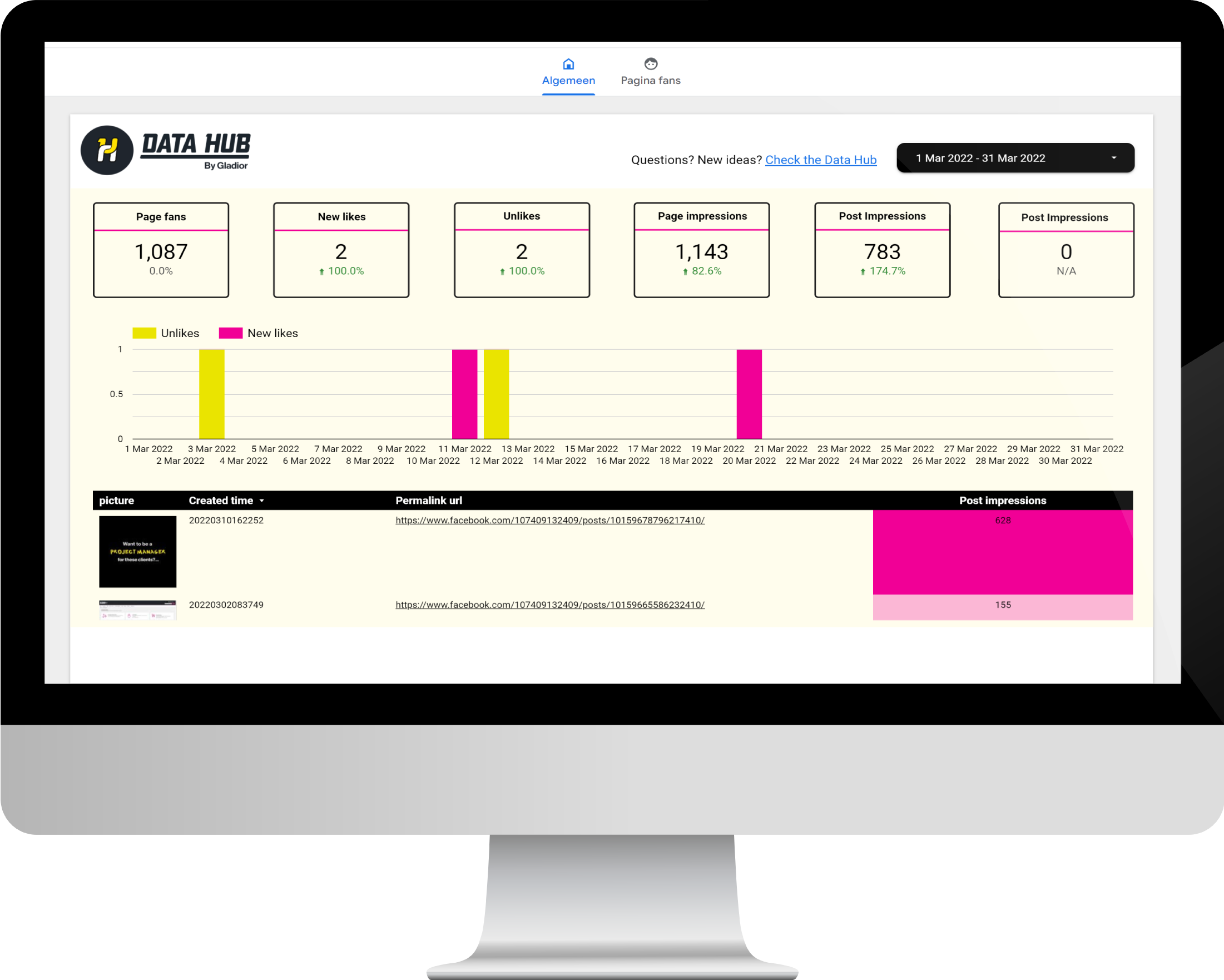 How to connect the
Indeed data?
Step 1.
When you've selected the connector in Looker Studio, you need to authorize the use of the Looker Studio Connector.
Step 2.
The next step is to authorize the Indeed Connector.
Step 3.
Login to your Indeed account and make the connection.
Step 4.
When you've made the connection with Looker Studio you will see all the possible fields of data with a description of what they mean.
Step 5.
When you click on 'make report' you will connect the data to the template.
Frequently asked questions
Find here the most asked questions about the Indeed Sponsored Jobs Connector. Can't find your question here? Ask us in the Indeed repository.
Is there an option to see organic traffic in the connector?
Indeed doesn't have an organic API endpoint, so our connector doesn't have acces to these insights. The only way to see the organic stats, is to have a sponsored job function. Then the following metrics are available:
'organicImpressions'
'organicClicks'
'organicApplyStarts'
Metrics and Dimensions of the Indeed Sponsored Jobs Connector
You can use the following metrics and dimensions to Looker Studio:
| Name | Type | Description |
| --- | --- | --- |
| Date | YEAR_MONTH_DAY | |
| Campaign ID | TEXT | The unique identifier for a campaign. |
| Campaign Name | TEXT | The name of the campaign. |
| Job | TEXT | |
| Job Reference Number | TEXT | |
| Platform | TEXT | |
| Clicks | NUMBER | The number of sponsored clicks for the campaign. |
| Impressions | NUMBER | The number of people who viewed the sponsored campaign. |
| Conversions | NUMBER | The number of applications resulting from direct clicks on your ad campaign. |
| Cost | CURRENCY_EUR | The amount of the job's campaign budget that is already consumed. |
| Apply Starts | NUMBER | The number of times the Apply button was clicked for a sponsored job campaign. |
| CTR | PERCENT | Click through rate. |
| Apply Start Rate | PERCENT | Apply start rate. |
| Application Completion Rate | PERCENT | Application Completion Rate. |
| Cost per Click | CURRENCY_EUR | Cost per Click. |
| Cost per Apply Start | CURRENCY_EUR | Cost per Apply Start |
| Cost per Conversion | CURRENCY_EUR | Cost per Conversion (Apply) |
| Indeed Apply Conversions | NUMBER | Indeed Apply Conversions |
| Organic Apply Starts | NUMBER | Number of unpaid apply starts a campaign had. |
| Total Apply Starts | NUMBER | The number of times the Apply button was clicked for both organic and sponsored. |
| Organic Clicks | NUMBER | Number of unpaid clicks a campaign had. |
| Total Clicks | NUMBER | Number of paid and unpaid clicks a campaign had. |
| Organic Impressions | NUMBER | Number of unpaid views a campaign had. |
| Total Impressions | NUMBER | Number of paid and unpaid views a campaign had. |