Support Center
On this page you'll see the Frequently Asked Questions about the Data Hub/ Looker Studio. The list will be regularly updated. Is your question not in here? Check the support pages of your connector, or the GitHub page of your connector and ask your question. Find the right connector on GitHub, here at our GitHub repositories.
Data Hub
Find here the most asked questions about the Data Hub App. Can't find your question here? Ask us in the Data Hub app repository.
Looker Studio (Google Data Studio)
General frequently asked questions about Looker Studio errors/ bugs. Formerly known as Google Data Studio.
How to fix "Missing Data Source" in Looker Studio?
"Missing data source" – There is no data source associated with this component.

When you click on See details, you'll see the details of this error.

To solve this you first need to go to edit mode in your report/ dashboard and select the chart that's showing the error. Then you can connect a (new) data source, like shown below.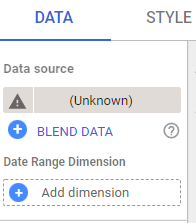 When you click on the Unknown  data source, you'll see a dropdown of all the data sources you've already connected to your report/ dashboard. You can also connect a new data source!
There are different reasons why the charts disconnect from their data sources.
You may have accidentally removed the data source from the report or from the chart.
When copying the report/ dashboard, you didn't connect your account properly.
Looker Studio disconnected the charts from their data sources (less likely, but possible).
If there are more charts that are disconnected, you can easily select them all and connect the right data source.
What to do when your charts show "Data Set Configuration Error"?
When your charts show the error "Data Set Configuration Error" you need to check the following thing:
Check the "See details" and see if the error is further explained.

If it's a Data Hub Connector, the (most) errors are described. When it's not clear, check the support page of the data source, probably it's described there.

What is the time range of the report/dashboard?

If the date is not set right there is no data to show.

Which account did you connect?

Is the right account? otherwise reconnect to another account!

The app API returns an error.

Wait a few minutes and refresh your report/ dashboard. Sometimes APIs have glitches and can go back to normal, once the report/ dashboard is refreshed.
How to fix "Invalid/Missing dimensions, metrics, or filters"?
This error suggests that you didn't set your chart correctly. You can't combine all metrics with all dimensions, and after using certain filters your charts may break.
For the combinations between metrics & dimensions, there is a check, if it's not possible in the data source, it's (probably) not possible to combine in Looker Studio.
For example, with Facebook insights, you can't report, on how many new followers your post has. Those are separate things. You can't combine pages data, with posts data.
Support pages per Connector
General frequently asked questions about the different connectors.