Support page for the
LinkedIn Company Connector
With the LinkedIn Company Connector you can report on the most important statistics of your LinkedIn Company page. To use this connector you can connect with your Google Account or just with your email. Both Logins will make an account in the Data Hub app. If you have any questions about the connector, go to our Support Center.
The LinkedIn Company Connector has a template. This template contains general information about your LinkedIn Company page. It has 1 page.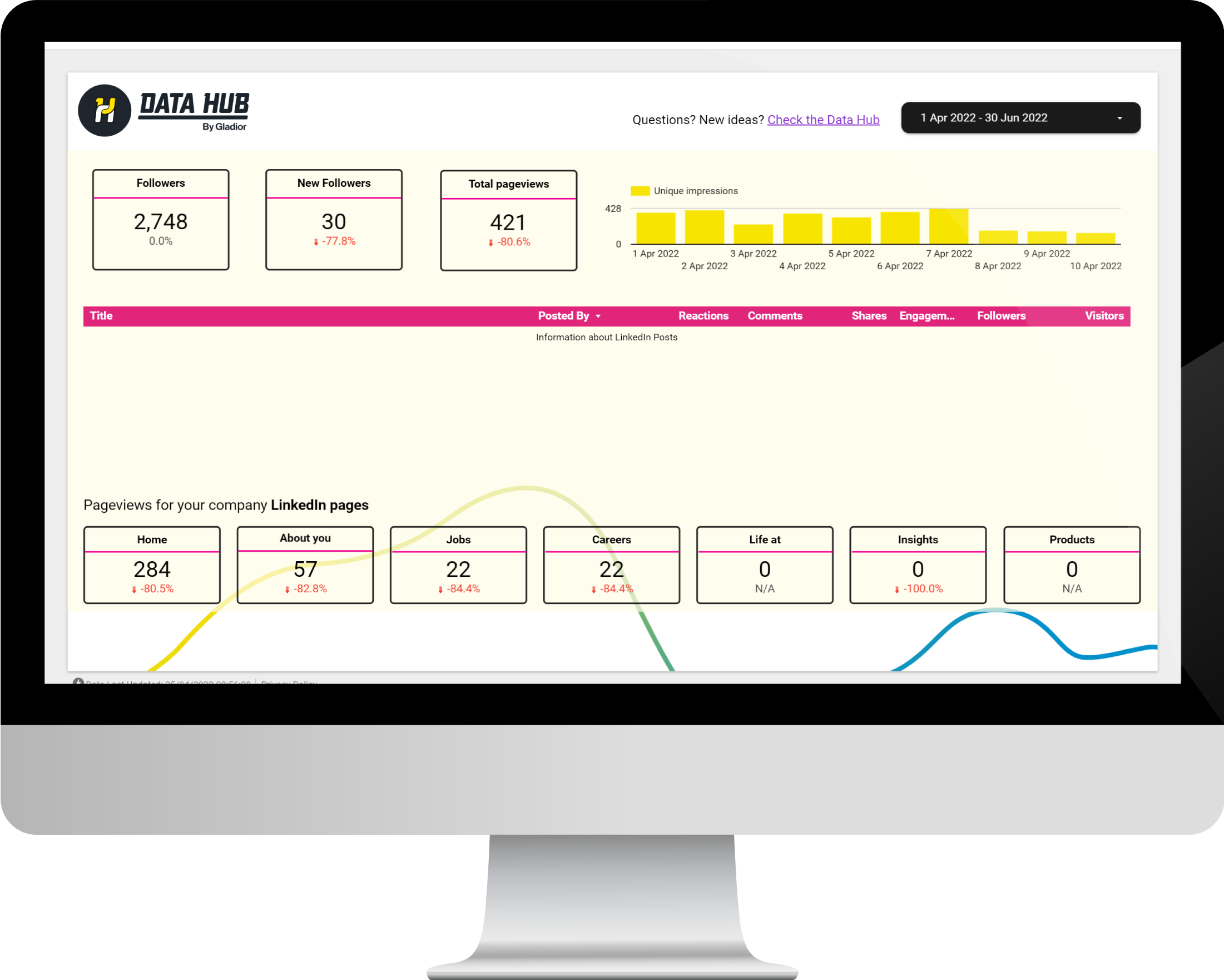 How to connect the
LinkedIn Page data?
Step 1.
When you've selected the connector in Looker Studio, you need to authorize the use of the Looker Studio Connector.
Step 2.
The next step is to authorize the LinkedIn Company Connector.
Step 3.
Login to your LinkedIn account and make the connection.
Step 4.
When you've made the connection with Looker Studio you will see all the possible fields of data with a description of what they mean.
Step 5.
When you click on 'make report' you will connect the data to the template.
Frequently asked questions
Find here the most asked questions about the Indeed connector. Can't find your question here? Ask us in the LinkedIn Company repository.
How can I connect a new LinkedIn account to Data Hub?
If you already have made the connection to a LinkedIn account and want to connect a new one. You need to log out from LinkedIn.
Unfortunately LinkedIn doesn't support switching accounts. That's why you should log out and then make a new connection in Data Hub.
Good luck!
Metrics and Dimensions of the LinkedIn Company Connector
You can use the following metrics and dimensions to Looker Studio:
| Name | Type | Description |
| --- | --- | --- |
| Title | TEXT | Title of the update. |
| Posted By | TEXT | Name of the admin who created the update. |
| Id | TEXT | The unique identifier of the post |
| Post Url | URL | A url to the post |
| Image Url | URL | The url to the image of the post |
| Image | IMAGE | The image of the post |
| Post Type | TEXT | The type of the post (image, video, ...) |
| Created | YEAR_MONTH_DAY | Date in UTC on which the update was created. |
| Impressions | NUMBER | Views when the update is at least 50% on screen for at least 300 ms, or when it is clicked, whichever comes first. |
| Unique impressions | NUMBER | Unique views when the update is at least 50% on screen for at least 300 ms, or when it is clicked, whichever comes first. |
| Clicks | NUMBER | Clicks on the update. |
| Reactions | NUMBER | Total number of reactions on all your updates. |
| Comments | NUMBER | Total number of comments on all your updates. |
| Shares | NUMBER | Total number of shares of all your updates. |
| Engagement rate | PERCENT | Calculated as: (Clicks + Likes + Comments + Shares + Follows) / Impressions. |
| Location | TEXT | The location of the follower |
| Job function | TEXT | Job function title. |
| Seniority | TEXT | Seniority title. |
| Industry | TEXT | Industry title. |
| Company Size | TEXT | Company Size. 11 to 50 employees, 51 to 200, etc. |
| Followers | NUMBER | Followers. |
| Visitors | NUMBER | Total amount of visitors per demographic |
| Percentage | NUMBER | Followers percentage. |
| New Followers | NUMBER | Amount of new followers. calculated as (organicFollowerGain + paidFollowerGain). Pair with created and created only. |
| Total desktop page views | NUMBER | Total amount of page views on all pages by desktop users |
| Total mobile page views | NUMBER | Total amount of page views on all pages by mobile users |
| Total page views | NUMBER | Total amount of page views on all pages by both mobile and desktop users |
| Total unique desktop page views | NUMBER | Total amount of unique page views on all pages by desktop users |
| Total unique mobile page views | NUMBER | Total amount of unique page views on all pages by mobile users |
| Total unique page views | NUMBER | Total amount of unique page views on all pages by both mobile and desktop users |
| Desktop home-page views | NUMBER | Total amount of page views on the home page by desktop users |
| Mobile home-page views | NUMBER | Total amount of page views on the home page by mobile users |
| All home-page views | NUMBER | Total amount of page views on the home page by both mobile and desktop users |
| Unique desktop home-page views | NUMBER | Total amount of unique page views on the home page by desktop users |
| Unique mobile home-page views | NUMBER | Total amount of unique page views on the home page by mobile users |
| All unique home-page views | NUMBER | Total amount of unique page views on the home page by both mobile and desktop users |
| desktop about-page views | NUMBER | Total amount of page views on the about page by desktop users |
| mobile about-page views | NUMBER | Total amount of page views on the about page by mobile users |
| All about-page views | NUMBER | Total amount of page views on the about page by both mobile and desktop users |
| Unique desktop about-page views | NUMBER | Total amount of unique page views on the about page by desktop users |
| Unique mobile about-page views | NUMBER | Total amount of unique page views on the about page by mobile users |
| All unique about-page views | NUMBER | Total amount of unique page views on the about page by both mobile and desktop users |
| desktop insights-page views | NUMBER | Total amount of page views on the insights page by desktop users |
| mobile insights-page views | NUMBER | Total amount of page views on the insights page by mobile users |
| All insights-page views | NUMBER | Total amount of page views on the insights page by both mobile and desktop users |
| Unique desktop insights-page views | NUMBER | Total amount of unique page views on the insights page by desktop users |
| Unique mobile insights-page views | NUMBER | Total amount of unique page views on the insights page by mobile users |
| All unique insights-page views | NUMBER | Total amount of unique page views on the insights page by both mobile and desktop users |
| desktop people-page views | NUMBER | Total amount of page views on the people page by desktop users |
| mobile people-page views | NUMBER | Total amount of page views on the people page by mobile users |
| All people-page views | NUMBER | Total amount of page views on the people page by both mobile and desktop users |
| Unique desktop people-page views | NUMBER | Total amount of unique page views on the people page by desktop users |
| Unique mobile people-page views | NUMBER | Total amount of unique page views on the people page by mobile users |
| All unique people-page views | NUMBER | Total amount of unique page views on the people page by both mobile and desktop users |
| desktop products-page views | NUMBER | Total amount of page views on the products page by desktop users |
| mobile products-page views | NUMBER | Total amount of page views on the products page by mobile users |
| All products-page views | NUMBER | Total amount of page views on the products page by both mobile and desktop users |
| Unique desktop products-page views | NUMBER | Total amount of unique page views on the products page by desktop users |
| Unique mobile products-page views | NUMBER | Total amount of unique page views on the products page by mobile users |
| All Unique products-page views | NUMBER | Total amount of unique page views on the products page by both mobile and desktop users |
| desktop jobs-page views | NUMBER | Total amount of page views on the jobs page by desktop users |
| mobile jobs-page views | NUMBER | Total amount of page views on the jobs page by mobile users |
| All jobs-page views | NUMBER | Total amount of page views on the jobs page by both mobile and desktop users |
| Unique desktop jobs-page views | NUMBER | Total amount of unique page views on the jobs page by desktop users |
| Unique mobile jobs-page views | NUMBER | Total amount of unique page views on the jobs page by mobile users |
| All Unique jobs-page views | NUMBER | Total amount of unique page views on the jobs page by both mobile and desktop users |
| desktop "life at" page views | NUMBER | Total amount of page views on the "life at" page by desktop users |
| mobile "life at" page views | NUMBER | Total amount of page views on the "life at" page by mobile users |
| All "life at" page views | NUMBER | Total amount of page views on the "life at" page by both mobile and desktop users |
| Unique desktop "life at" page views | NUMBER | Total amount of unique page views on the "life at" page by desktop users |
| Unique mobile "life at" page views | NUMBER | Total amount of unique page views on the "life at" page by mobile users |
| All unique "life at" page views | NUMBER | Total amount of unique page views on the "life at" page by both mobile and desktop users |
| desktop careers-page views | NUMBER | Total amount of page views on the careers at page by desktop users |
| mobile careers-page views | NUMBER | Total amount of page views on the careers at page by mobile users |
| All careers-page views | NUMBER | Total amount of unique page views on the careers at page by both mobile and desktop users |
| Unique desktop careers-page views | NUMBER | Total amount of unique page views on the careers at page by desktop users |
| Unique mobile careers-page views | NUMBER | Total amount of unique page views on the careers at page by mobile users |
| All unique careers-page views | NUMBER | Total amount of unique page views on the careers at page by both mobile and desktop users |