Support page for the
Microsoft Ads Connector
With the Microsoft Connector you can report on campaign performance data and ad spend details. To use this connector you can use the Data Hub. You can use any Google account, but you can also create an own account. To connect Microsoft Ads. you need to create a data source. Login to your Microsoft Ads Account or just with your email. Both Logins will make an account in the Data Hub app.
The connector has a template. It is an one page template where you can see campaign performance data & ads spend details.
With this Connector you can analyze your own ads account and compare it to your other ads account, for example Facebook Ads or Google Ads. See the difference and learn from it! Perfect for your Ads dashboard.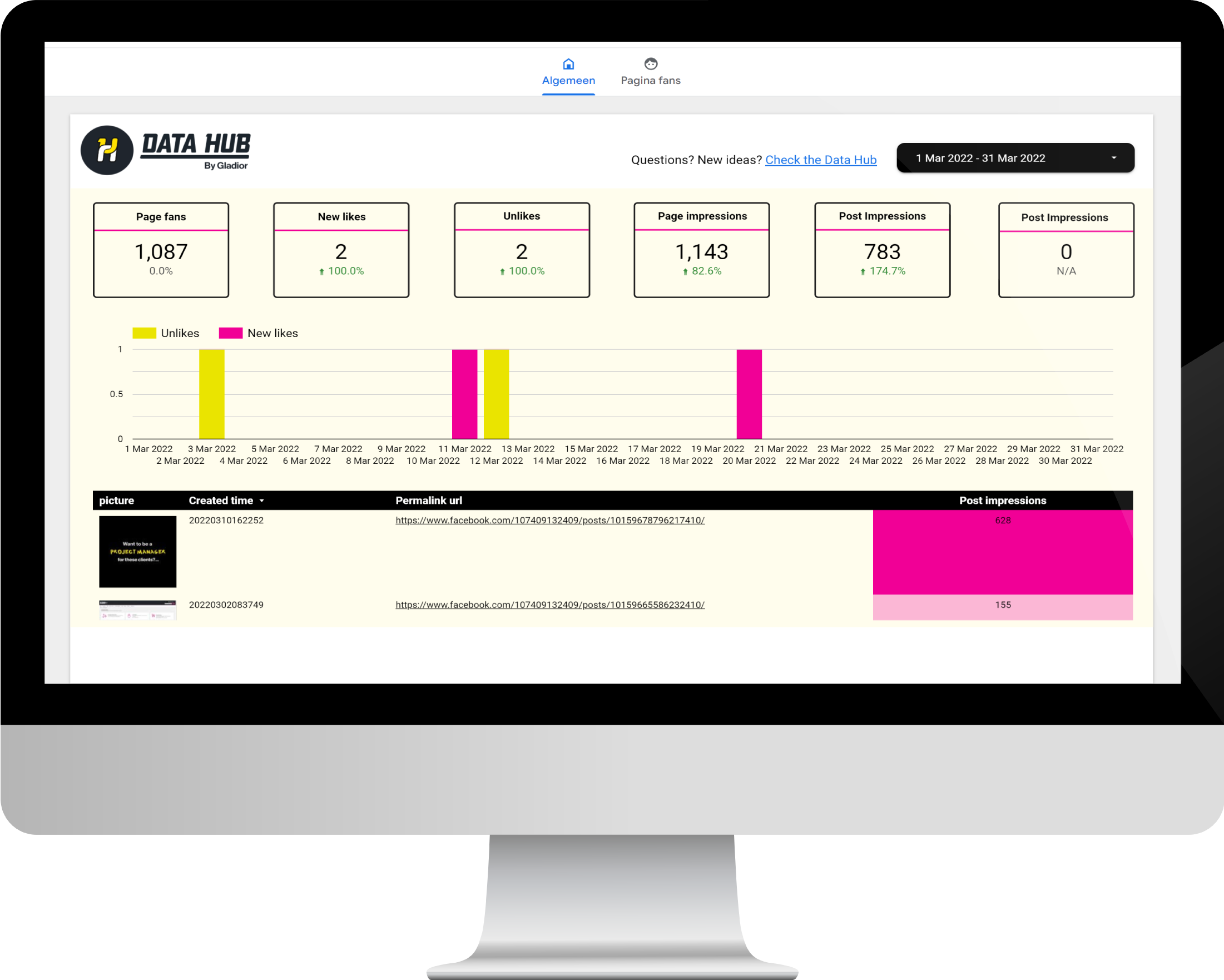 How to connect the
Microsoft data?
Step 1.
When you've selected the connector in Looker Studio, you need to authorize the use of the Looker Studio Connector.
Step 2.
The next step is to authorize the Microsoft Ads Connector.
Step 3.
Select the account you want to analyse. Click connect.
Step 4.
When you've made the connection with Looker Studio you will see all the possible fields of data with a description of what they mean.
Step 5.
When you click on 'make report' you will connect the data to the template.
Frequently asked questions
Find here the most asked questions about the Microsoft Ads Connector. Can't find your question here? Ask us in the Microsoft Ads repository.
What is the difference with the metric 'all revenue' & 'revenue'?
Data will be excluded from the Revenue report column for any conversion goal with the ExcludeFromBidding property set to true.
The AllRevenue column will include data for all conversion goals regardless of their ExcludeFromBidding setting.
Metrics and Dimensions of the Microsoft Ads Connector
You can use the following metrics and dimensions to Looker Studio:
| Name | Type | Description |
| --- | --- | --- |
| Notice: Trying to get property 'name' of non-object in /home/datahub/domains/datahub.gladior.com/public_html/wp-content/themes/GladiorTheme/templates/parts/dataprovider_fields.php on line 32 | Notice: Trying to get property 'type' of non-object in /home/datahub/domains/datahub.gladior.com/public_html/wp-content/themes/GladiorTheme/templates/parts/dataprovider_fields.php on line 33 | Notice: Trying to get property 'description' of non-object in /home/datahub/domains/datahub.gladior.com/public_html/wp-content/themes/GladiorTheme/templates/parts/dataprovider_fields.php on line 34 |