Support page for the
PageSpeed Insights Connector
With the PageSpeed Insights Connector you can report on the performance of a website of your choice. Both on mobile and desktop devices. To use this connector you can connect with your Google Account or just with your email. Both Logins will make an account in the Data Hub app.
The connector has a template. It is an one page template where you can see the scores of the four main subjects, performance, accessibility, best practices & SEO. In the left corner you can see the Core Web Vitals of the website, with next to it a screenshot of the website.
With this Connector you can analyze your own website and the connector of your competitor. See the difference and learn from it! Ideal for your SEO dashboard.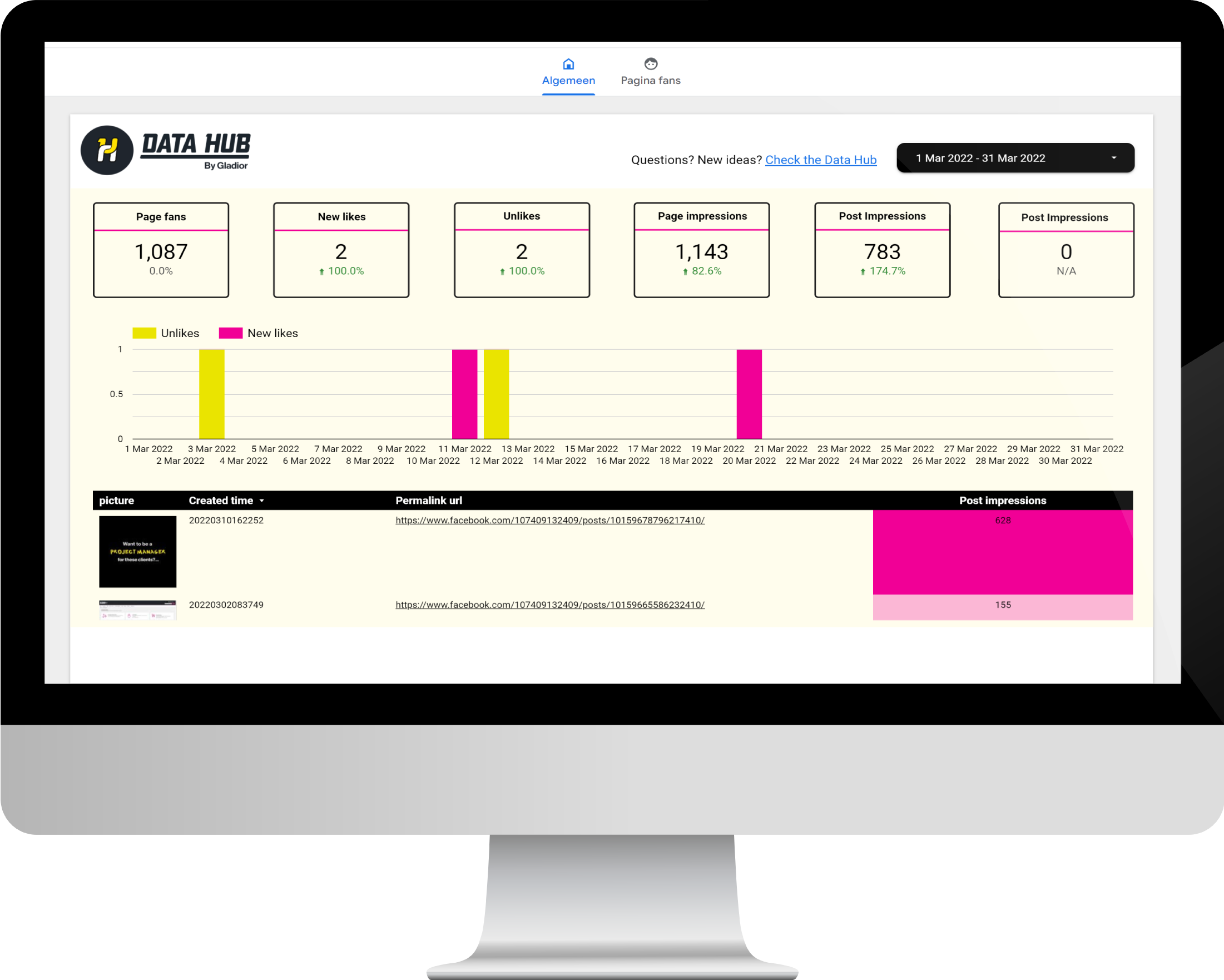 How to connect the
PageSpeed Insights data?
Step 1.
When you've selected the connector in Looker Studio, you need to authorize the use of the Looker Studio Connector.
Step 2.
The next step is to authorize the PageSpeed Insights Connector.
Step 3.
Select the webpage URL you want to analyse and choose for which device you want to see the scores. Click connect.
Step 4.
When you've made the connection with Looker Studio you will see all the possible fields of data with a description of what they mean.
Step 5.
When you click on 'make report' you will connect the data to the template.
Metrics and Dimensions of the PageSpeed Insights Connector
You can use the following metrics and dimensions to Looker Studio:
| Name | Type | Description |
| --- | --- | --- |
| Notice: Trying to get property 'name' of non-object in /home/datahub/domains/datahub.gladior.com/public_html/wp-content/themes/GladiorTheme/templates/parts/dataprovider_fields.php on line 32 | Notice: Trying to get property 'type' of non-object in /home/datahub/domains/datahub.gladior.com/public_html/wp-content/themes/GladiorTheme/templates/parts/dataprovider_fields.php on line 33 | Notice: Trying to get property 'description' of non-object in /home/datahub/domains/datahub.gladior.com/public_html/wp-content/themes/GladiorTheme/templates/parts/dataprovider_fields.php on line 34 |